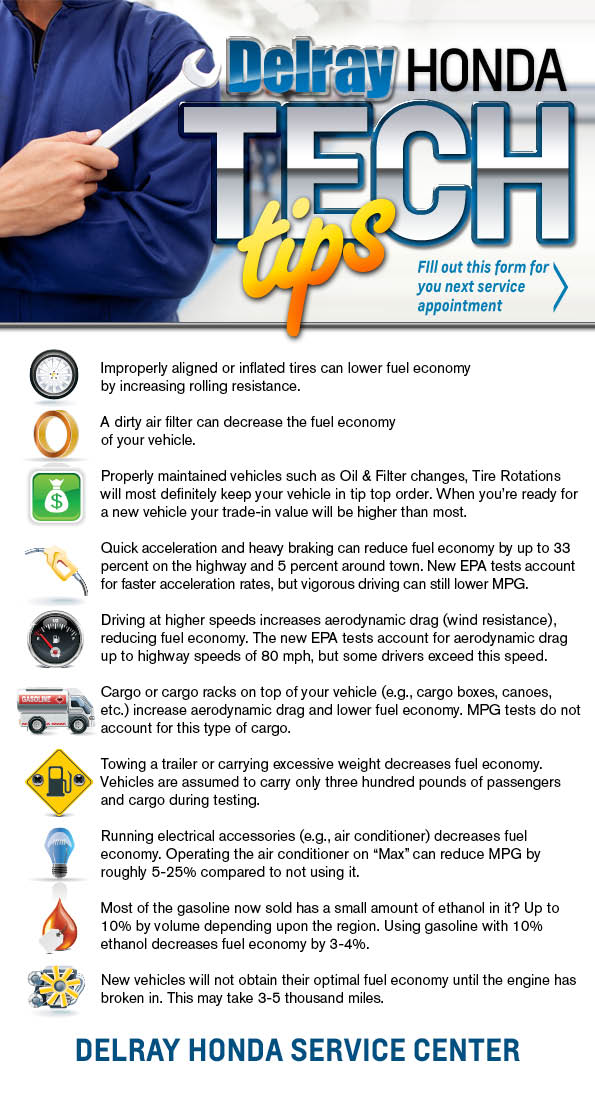 Delray Honda has several helpful tips and pointers to keep your vehicle running in tip-top condition and with the best possible fuel economy year in and year out. If you have any questions about the current state of your vehicle, visit the Delray Honda Service Center and
schedule an appointment 
today.
General Performance Tips
Improperly aligned or inflated tires can lower fuel economy by increasing rolling resistance and can be a potentially dangerous hazard while driving.


A dirty air filter can decrease the fuel economy of older cars with carbureted engines and put unneeded stress on the motor.


Properly Maintaining Your Vehicle with Oil & Filter changes and Tire Rotations will

keep your vehicle running at peak efficiency and can extend the overall life of your vehicle.
Fuel-Saving Tips


Quick acceleration and heavy braking can reduce fuel economy by up to 33 percent on

the highway and 5 percent around town. New EPA tests account for faster acceleration rates, but vigorous driving can still lower MPG.


Driving at higher speeds increases aerodynamic drag (wind resistance), reducing

fuel economy. The new EPA tests account for aerodynamic drag up to highway speeds of 80 mph, but some drivers exceed this speed.


Cargo or cargo racks on top of your vehicle (e.g., cargo boxes, canoes, etc.)

increase aerodynamic drag and lower fuel economy. MPG tests do not account for this type of cargo.


Towing a trailer or carrying excessive weight decreases fuel economy. Vehicles are assumed to carry only three hundred pounds of passengers and cargo during testing.


Running electrical accessories (e.g., air conditioner) decreases fuel economy. Operating the air conditioner on "Max" can reduce MPG by roughly 5-25 percent compared to not using it.


Most of the gasoline now sold has a small amount of ethanol in it ? Up to 10

percent by volume depending upon the region. Using gasoline with 10 percent ethanol decreases fuel economy by 3-4 percent.


New vehicles will not obtain their optimal fuel economy until the engine is broken in. This may take 3-5 thousand miles.
Make an Inquiry
* Indicates a required field
Hours
Monday

7:00 AM - 6:00 PM

Tuesday

7:00 AM - 6:00 PM

Wednesday

7:00 AM - 6:00 PM

Thursday

7:00 AM - 6:00 PM

Friday

7:00 AM - 6:00 PM

Saturday

8:00 AM - 4:00 PM

Sunday

Closed