Take a Look Delray Beach Honda Shoppers - the Pilot has Arrived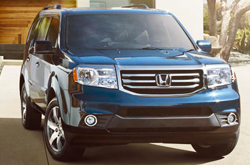 The eight-passenger 2015 Honda Pilot is a comfortable family car that is great for cross-country road trips. It has plenty of space throughout the cabin and an array of compartments to store items while traveling. For 2015, the crossover remains primarily unchanged aside from one addition: a brand-new trim. Known as the Special Edition, the latest trim comes with a few features that add a little more luxury to the Pilot and extra flair. To find out more details about the Pilot and its amenities, read our 2015 Honda Pilot review for info.

Five individual models are being offered on the Honda Pilot lineup this year: LX, EX, SE, EX-L and Touring. The SE model is the newest addition to the roster this year, which comes equipped with a sunroof, satellite radio, 18-inch wheels and a rear-seat entertainment system to keep kids occupied while on the road. In addition to these features, buyers can take advantage of components on the 2015 Honda Pilot in Delray Beach, such as heated seats, navigation, Bluetooth hands-free calling, a rearview camera and seven-speaker sound system, which are available on other trims in the lineup. A power liftgate is featured on the EX-L model as well, making transporting cargo a breeze.

Producing 250 horsepower and 253 lb.-ft. of torque, a 3.5L V-6 is the sole engine offered on the 2015 Honda Pilot in Delray Beach this model year. It can be fitted on either front-wheel- or all-wheel-drive models, and it comes paired with a five-speed automatic transmission. Additionally, the Pilot can tow 2,000 pounds when equipped on front-wheel-drive models and 4,500 pounds on all-wheel-drive models. Whether you want to transport items or haul a trailer, the Honda Pilot can handle all your needs.

For more information about the minivan and its capabilities, continue browsing our 2015 Honda Pilot review.