Civic Update from Delray Beach Honda Research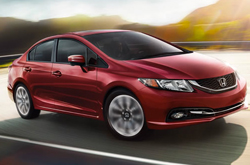 The always reliable Honda Civic is officially here and this year it's offering one new addition: the SE trim level. Available with excellent new features, the SE model sits right in between the LX and EX trims in the 2015 Honda Civic lineup. For the new model year, the SE trim is the only modifications to that can be found on the Civic. In addition to this, the car continues to offer great fuel efficiency, a smooth ride and top-notch engines on all models. If you'd like to acquire more details about these features and others, check out our comprehensive 2015 Honda Accord review below.

To give buyers more options to choose from this year, the 2015 Honda Civic in Delray Beach is being offered with a brand-new SE trim. A step up from the entry-level LX trim, the new model comes with automatic climate control, 15-inch alloy wheels, HondaLink smartphone integration, which allows driver to utilize their phone apps, and an updated six-speaker audio system. It also features a camera on the right side of the car that gives drivers the ability to view when a car is in their blind spot, helping to prevent avoidable accidents.

When it comes to engine options, the Honda Civic has a variety of choices, depending on which model you purchase. The standard Civic comes with a 1.8L four-cylinder, delivering 143 horsepower and 129 lb.-ft. of torque, while the Civic Si sports a 2.4L four-cylinder, producing 205 horsepower and 174 lb.-ft. of torque. There's also a Civic Natural Gas model the features a 1.8L engine, outputting 110 horsepower and 106 lb.-ft. of torque; however, the most fuel-efficient of the bunch is the 1.5L four-cylinder equipped on the 2015 Honda Civic Hybrid in Delray Beach. It works with an electric motor to deliver 110 horsepower and 127 lb.-ft. of torque, while producing an EPA-estimated 45 mpg combined.

If you want to learn more about the Civic and its components, continue to read our 2015 Honda Civic review.