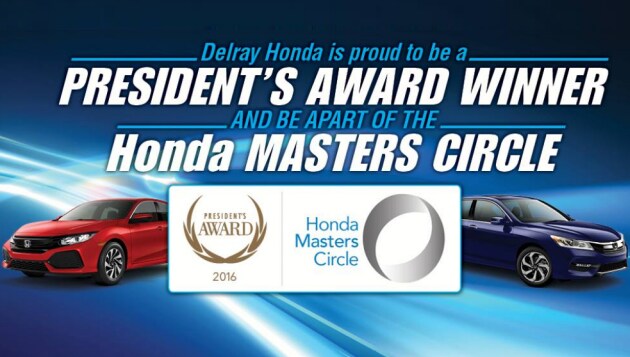 We're excited to announce that Delray Honda has recently earned a 2016 President's Award and Honda Masters Circle Award for displaying excellence in sales and service, as well as for providing a superior customer experience.
We're incredibly proud to have received these elite honors, which are a reflection of our daily commitment to valuing the customer in every area of the dealership, from sales to finance, parts and service. We also thank our customers, whose positive follow-up surveys helped us achieve these awards; we will continue to do our absolute best to provide you with award-winning service.
What is the Honda President's Award?
Honda Motor Company only awards the top 15 percent of its dealerships nationwide with this prestigious honor. To earn the award a dealership must show excellence in several areas, including sales, profitability, customer service experience, service retention, brand representation and vehicle condition (cleanliness, and mechanical and physical condition of cars sold).
What is the Honda Masters Circle Award?
Sales performance is the key factor in being recognized as a Honda Masters Circle recipient. The award is given to the top 50 dealers in the U.S. with the highest sales volume as well as impressive customer service index (CSI) scores.