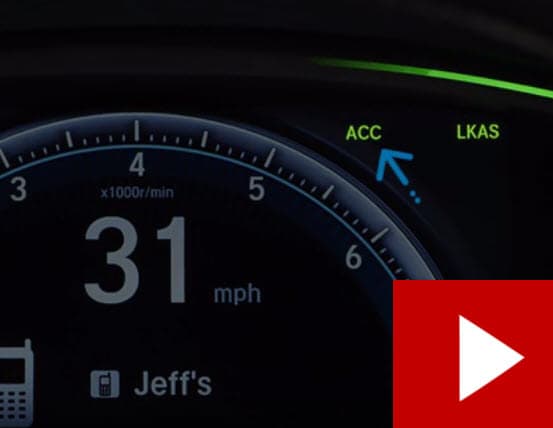 If you recently purchased a Honda with Adaptive Cruise Control with Low-Speed Follow, congrats! ACC is an advanced driver assist feature that makes driving more convenient and you're sure to find it handy on many occasions. If you need a refresher on how to use the system, check out the following video and see below for written details.
VIDEO OVERVIEW
Honda's Adaptive Cruise Control uses a radar unit that's mounted at the front of the car, along with a windshield camera, to approximate the position of forward vehicles.


You can activate the system by pressing the MAIN button on the steering wheel; you'll see the ACC and LKAS (Lane Keeping Assist system) icons turn on.


You can engage Adaptive Cruise Control when driving below 25 mph, even when you're stopped with your foot on the brake pedal. To activate press SET – (minus) and the system will set your cruise control speed to 25 mph.


If you want to set your ACC above 25 mph, drive to the desired speed then press the SET – button.


When no vehicles are detected ahead the vehicle icon in your instrument panel will appear as a dotted line; when vehicles are detected the vehicle icon will fill in.


There are four following intervals: short, middle, long and extra long. Note that the following distance for each setting will increase with vehicle speed.


If you'd like to increase your cruising speed by 1 mph at a time, press the RES + button; to decrease by 1 mph at a time press the SET – button.


To increase or decrease your cruising speed by 5 mph at a time, push and hold the toggle switch pointing it in the appropriate direction.