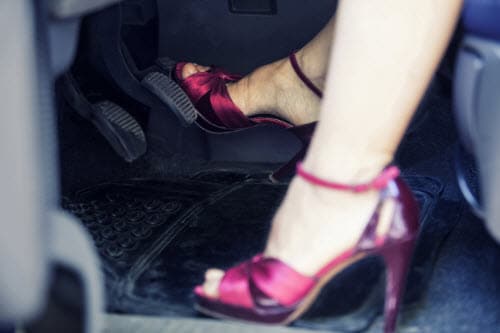 People don't wear flip flops when playing professional soccer or soccer cleats to a board meeting, so why wear improper shoes when driving, especially when it could risk an accident that might lead to serious injury?
Wearing the wrong type of shoes is a factor in many accidents. The worst types for driving are high heels, flip-flops, work boots and any shoes with a thick sole or platform that makes it hard to feel the pedals. While it's not illegal in the U.S., driving barefoot is also not ideal; in an emergency situation, one may not be inclined to hit a gas or brake pedal as hard as needed with a bare foot. In addition, loose shoe strings are associated with causing accidents, as well.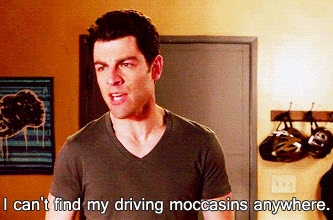 Regarding footwear and speaking about high heels in particular, Tammy Ezer, the director of marketing for InsuranceHotline.com said, "The best driving shoes are flat, comfortable and with a thin sole. If you're wearing high heels with a platform, there's a lot of space between the bottom of your foot and the pedal. You might go to hit the brake and miss, or hit the gas, and that's critical."
Ezer also suggests avoiding flip-flops because they're not fitted to the foot and could come loose and get caught under a pedal. Many experts, like Matt Reilly, director of the B.R.A.K.E.S. charity, even think flip-flops are more dangerous to drive in than heels because of this.
Work boots are another bad choice because of their thick soles, which make it difficult to determine if too much or too little pressure is being applied to a pedal. In a moment where you only have a split second to act, it can be dangerous not to have a real feel for the pedal.
So what type of shoes should you wear to drive? It's a good idea to keep an extra pair of shoes in your car if your work or walking shoes are not ideal for driving. Choose fitted shoes that have some flexibility and a thin to medium sole that'll allow you to feel the pedal. Also choose footwear with good grip, not a slippery sole. Many shoes fit this description and most are even quite stylish.
Don't let your shoes cause you to get into an accident; they won't pay the price - you will. So choose a pair that won't impede your reaction time, gas and breaking feel, or ability to change gears smoothly.