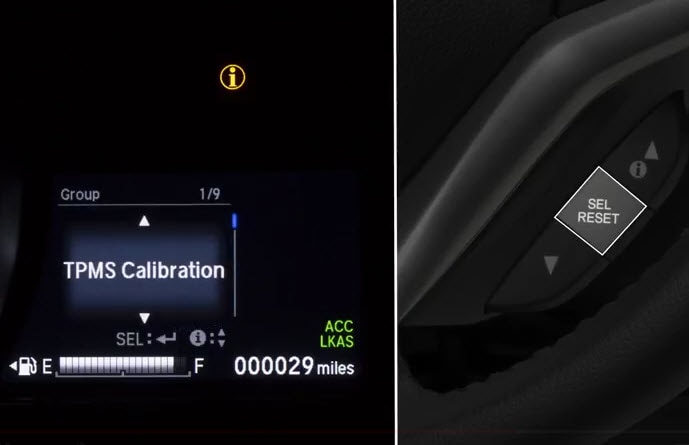 Before getting started with your new Honda, it's crucial to understand how to calibrate the TPMS (tire pressure monitoring system). The TPMS makes it easy to accurately assess the condition of your tires, and when they're underinflated, it will tell you that it's time to add air or make repairs. Read on to learn how to calibrate your Honda tire pressure monitoring system.
Finding the Recommended Tire Pressure
On the inner door jamb, you'll find a sticker with some important information, including the recommended tire pressure and load rating. The amount of air required for the tires depends on the type of Honda you're driving.
Beginning the Calibration Process
To start, you'll turn on the ignition. Be sure the vehicle is in park to keep it from rolling away while you're inflating the tires. If your Honda is equipped with a manual transmission, you can put it in neutral if you choose. Look for a button to the left of the wheel; it should resemble the TPMS indicator on the driver interface. Push and hold the button until the indicator appears on the screen. The icon will blink twice, indicating that the calibration process has started.
If There's No TPMS Button
If there is no TPMS button to the left of the steering wheel, it's likely on the wheel itself. It may be an upward or downward arrow. After holding the button, you'll see a "Vehicle Settings" display. Press the "Select Reset" button, and you'll then see the TPMS button. Press the "Select Reset" button again to bring up the appropriate screen, and use the arrow buttons to start the calibration process. It may take some time to complete, and you may need to drive your vehicle for 30 minutes at 30-60 miles per hour.
Visit Delray Honda Today
If you're having trouble calibrating your Honda's TPMS, stop by our dealership and our sales and service representatives can help. Whether you're shopping for a new Honda or you need parts and service, we have you covered. Give us a call today!